limited

lim·it·ed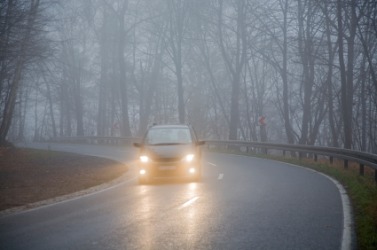 This fog is causing limited visibility.
adjective
The definition of limited is something or someone with boundaries or restrictions.

An example of limited used as an adjective is limited visibility, a lower level of visibility experienced by someone driving in thick fog.
---
limited
confined within bounds; restricted
circumscribed or narrow in scope or extent
brief; very short: a limited time

accommodating a restricted number of passengers, making fewer stops than on the regular runs, and often charging extra fare: said of a train, bus, etc.
exercising governmental powers under constitutional restrictions; not having absolute power: a limited monarchy

of or designating a partnership in which the liability of certain of its partners is limited to the amount of their individual investments

Chiefly Brit.

designating a company in which the liability of its shareholders is similarly restricted
a limited train, bus, etc.
---
limited
adjective
Confined or restricted within certain limits: has only limited experience.

a. Not attaining the highest goals or achievement: a limited success.

b. Having only mediocre talent or range of ability: a popular but limited actor.

Having governmental or ruling powers restricted by enforceable limitations, as a constitution or a legislative body: limited monarchy.
Abbr. Ltd. Of or relating to a limited company.
Of, relating to, or being transportation facilities, such as trains or buses, that make few stops and carry relatively few passengers.
noun
A limited train or bus.
Related Forms:
---
limited

---
limited - Investment & Finance Definition
A term that is used in the United Kingdom to designate a private company whose owners have limited liability. The abbreviation Ltd. is placed after a company's name to identify it as limited.
---