leverage

lev·er·age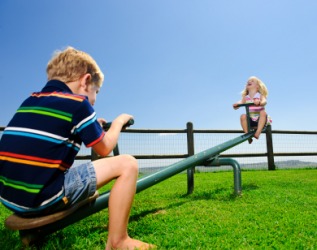 This seesaw is an example of leverage.
noun
The definition of leverage is the action of a lever, or the power to influence people, events or things.

An example of leverage is the motion of a seesaw.
An example of leverage is being the only person running for class president.
verb
Leverage is defined as to support, or is a financial term that means to take action to be more financially secure.

Leverage Strategies

Help balance a company's debt
Make profits appear to be larger
Provide financial opportunities for a company by making it more financially appealing to investors and the patrons of the company

An example of leverage is to financially back up a new company.
An example of leverage is to buy fixed assets, or take money from another company or individual in the form of a loan that can be used to help generate profits.
---
leverage
the action of a lever
the increased force resulting from this
power to effect change; specif., strategic means of accomplishing some purpose

Finance

use of borrowed funds to improve one's ability to speculate
funds or credit obtained in this way
transitive verb
-·aged

,

-·ag·ing
Finance

to borrow against (one's assets) in order to speculate
to increase the debt of (a business) in this way: a firm that is heavily leveraged

to make strategic use of (something) to accomplish some purpose; exploit
---
leverage
noun
a. The action of a lever.

b. The mechanical advantage of a lever.

Positional advantage; power to act effectively: "started his … career with far more social leverage than his father had enjoyed" ( Doris Kearns Goodwin )
The use of credit or borrowed funds, often for a speculative investment, as in buying securities on margin.
transitive verb
lev·er·aged, lev·er·ag·ing, lev·er·ag·es
a. To provide (a company) with leverage.

b. To supplement (money, for example) with leverage.

To improve or enhance: "It makes more sense to be able to leverage what we

[public radio stations]

do in a more effective way to our listeners" ( Delano Lewis )
To use so as to obtain an advantage or profit: leveraged their personal contacts to find new investors.
---
leverage

Noun
(usually uncountable, plural leverages)
A force compounded by means of a lever rotating around a pivot; see torque.

A crowbar uses leverage to pry nails out of wood.

By extension, any influence which is compounded or used to gain an advantage.

Try using competitors' prices for leverage in the negotiation.

(finance) The use of borrowed funds with a contractually determined return to increase the ability of a business to invest and earn an expected higher return, but usually at high risk.

Leverage is great until something goes wrong with your investments and you still have to pay your debts.

(business) The ability to earn very high returns when operating at high capacity utilization of a facility.

Their variable-cost-reducing investments have dramatically increased their leverage.
Verb
(third-person singular simple present leverages, present participle leveraging, simple past and past participle leveraged)
(chiefly US, slang, business) To use; to exploit; to take full advantage (of something).

They plan to leverage the publicity into a good distribution agreement.
They plan to leverage off the publicity to get a good distribution agreement.
---
leverage - Computer Definition

A euphemism for reuse. A considerable number of definitions in this book are leveraged from other books I have written for Wiley. I spent so much time writing these beautifully worded definitions over the last 10 years that I figured there was no point in trying to reword them and twist them out of shape in the process. Some things just don't make sense. See also euphemism.
---
leverage - Investment & Finance Definition
The amount of debt a company has. A highly-leveraged company has a relatively large amount of debt when compared to the level of assets it owns. Although becoming highly leveraged can create significant profits if things go according to plan, it can severely hamper a company that is caught in a slowing market or experiences unanticipated competition.
To purchase stocks or other investments by using borrowed funds (on margin). An investor who borrows money from his or her broker to purchase stocks uses leverage in order to increase his or her potential gain. However, if the investment declines in value, then the amount of money the investor loses likely increases well.
---
leverage - Legal Definition
n
Generally, the use of borrowed money to engage in transactions with a high rate of return that will allow repayment of the loan.
The ratio between a company's debt and equity.
---