estate

es·tate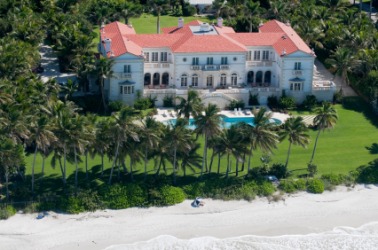 An oceanfront estate.
noun
The definition of an estate is a property, generally a large one, or ones personal property.

An example of an estate is a mansion.
An example of an estate is ones home and money.
---
estate
state or condition: to restore the theater to its former estate
a condition or stage of life: to come to man's estate
status or rank

Historical

esp. in feudal times, any of the three social classes having specific political powers: the first estate was the Lords Spiritual (clergy), the second estate the Lords Temporal (nobility), and the third estate the Commons (bourgeoisie)
property; possessions; capital; fortune
the assets and liabilities of a dead or bankrupt person
landed property; individually owned piece of land containing a residence, esp. one that is large and maintained by great wealth

Brit.

a real-estate development

Archaic

display of wealth; pomp

Law

the degree, nature, extent, and quality of interest or ownership that a person has in land or other property
all the property, real or personal, owned by a person
Origin of estate
Middle English and Old French
estat
, state
---
estate
noun
A landed property, usually of considerable size.
Law

a. One's property, both real and personal, vested and contingent, especially as disposed of in a will.

b. The nature and extent of an owner's rights with respect to land or other property.

Chiefly British A housing development.
The situation or circumstances of one's life: A child's estate gives way to the adult's estate.
Social position or rank, especially of high order.
A major social class, such as the clergy, the nobility, or the commons, formerly possessing distinct political rights.
Origin of estate
Middle English
estat
condition
from
Old French; see
state
.
---
estate

Noun
(plural estates)
(archaic) The condition of one's fortunes; prosperity, possessions [from 14th c.]
Landor

She's a duchess, a great estate.

Bible, Mark vi. 21

Herod on his birthday made a supper to his lords, high captains, and chief estates of Galilee.

(historical) A major social class or order of persons regarded collectively as part of the body politic of the country and formerly possessing distinct political rights (Estates of the realm) [from 14th c.]
An (especially extensive) area of land, under a single ownership [from 18th c.]
The collective property and liabilities of someone, especially a deceased person [from 19th c.]
(UK) A housing estate [from 20th c.]
(UK, automotive) A station wagon; a car with a tailgate (liftgate) and storage space to the rear of the seating which is coterminous with the passenger compartment (often extensible into that compartment via folding or removable seating) [from 20th c.]
Origin
From Anglo-Norman astat, from Old French estat (French: état).
---
estate - Investment & Finance Definition
All the assets that a person has at the time of his or her death. This includes cash, stocks, bonds, real estate, personal property, and other investments. The estate is distributed to the deceased's heirs as prescribed in the will.
---
estate - Legal Definition
n
The totality of an individual's ownership of money, real and personal property.
decedent's estate
Such assets after the death of the owner, as involved in the probate of a will or an intestacy proceeding.
residuary estate
The remainder of a decedent's estate after all applicable payments and transfers have been made, including gifts and taxes.
contingent estate
From the common law. An asset, typically real property, that vests only upon the occurrence of a condition.
dominant estate
Real property that benefits from an easement on adjoining property.
equitable estate
An estate recognized under the rules of equity.
possessory estate
A right of possession in an estate, which may not include actual ownership.
servient estate
Real property upon which an easement has been granted.
vested estate
An estate that an individual has a present right to enjoy, or a noncontingent right to do so in the future.
---