COLA

COLA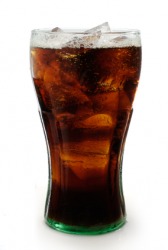 A glass of cola
abbreviation
The definition of COLA is as an abbreviation for a cost-of-living adjustment which is a regular change in payments based on the changes in cost-of-living.

An example of COLA is a 1% increase in military retirement payments to compensate for a 1% increase in the cost-of-living.
noun
A cola is defined as an African tree that has seeds and nuts containing caffeine, or a drink made from this caffeine.

An example of cola is Coke.
---
cola
an African tree (Cola acuminata) of the sterculia family whose seeds, or nuts, contain caffeine and yield an extract used in soft drinks and medicines
a sweet, carbonated soft drink flavored with this extract
Origin of cola
Classical Latin form of West African name
pl. of colon (sense )
alt. pl. of colon
COLA
a regular adjustment as of wages or social-security payments, based on fluctuations in the cost of living
Origin of COLA
c(ost-)o(f-)l(iving) a(djustment)
---
cola
noun
A carbonated soft drink containing an extract of the kola nut or similar flavorings.
Origin of cola
From
cola
4
noun
A cluster of flowers at the top of a female cannabis plant.
Origin of cola
Latin American Spanish slang (
perhaps originally in
Mexican Spanish slang
cola de borrego
high-quality marijuana, literally "lamb's tail," from the long, woolly appearance of the inflorescence
)
from
Spanish
tail
from
Old Spanish
from
Latin
cauda
; see
coda
.
COLA
abbreviation
cost-of-living adjustment
---
cola

---
cola - Investment & Finance Definition
---